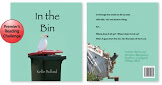 In the Bin was the first in the series for author Kellie Bollard.
An Australian book with Australian images helping educators and children alike to understand the concept of reducing and minimising waste. Full of colour photographs, In the Bin is a great introduction to correctly sorting household rubbish for primary and pre-school aged children.
Printed in Australia on recycled paper, In the Bin is on the NSW and QLD Premiers Reading Challenge booklists.